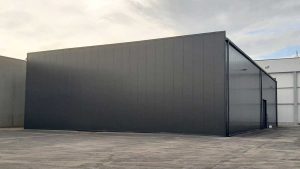 Type: Steel structure Schwarzmann X®
Purpose: Wholesale warehouse
Width: 25 m
Length: 40 m
Usable height: 6,5 m
The client company ROKO d.o.o., is a wholesaler of agricultural products.
They were looking for an additional warehouse at their Hoče location due to an increase in the volume of sales. In the planning phase, they were originally considering building a simple fabric structure on a vacant asphalt lot next to the existing office and storage building.
When presented with the possibility of erecting a Schwarzmann X® fabric structure directly on the asphalt base, they decided on an insulated building with the modern appearance of a flat roof. The building not needing concrete foundations for its construction was a huge benefit. At the same time, Schwarzmann X meets the remaining requirements for a temporary structure under local planning legislation and is therefore an excellent solution for quickly acquiring new storage space.
Because the client also stores temperature-sensitive materials, an insulated facility was one of the main requirements. Therefore, polyurethane PIR wall panels (100mm) were installed, and the roof is also insulated with a trapezoidal sheet-insulation layer – PVC membrane system.
For optimal use of space in the wholesale warehouse, the material will be stored in racks. With properly arranged transport routes and a sufficient number of entrance openings, the manipulation of sales items is easier and faster, and the facility is also connected to the storage areas in the existing sales and storage building via a connecting canopy.
With Schwarzmann X, client company ROKO d.o.o. was able to increase storage capacity for wholesale goods and further business growth in a relatively short time without costly additional groundworks.
Drago Tašner, general manager:
"We decided on Schwarzmann after viewing some of their completed projects and after visiting company itself with their production facilities and meeting with company management.
Schwarzmann instills trust in their customers. From idea to completion, everything went according to plan, as a contractor, they were professional and responsive. During the construction, they were flexible and were able to implement small changes."