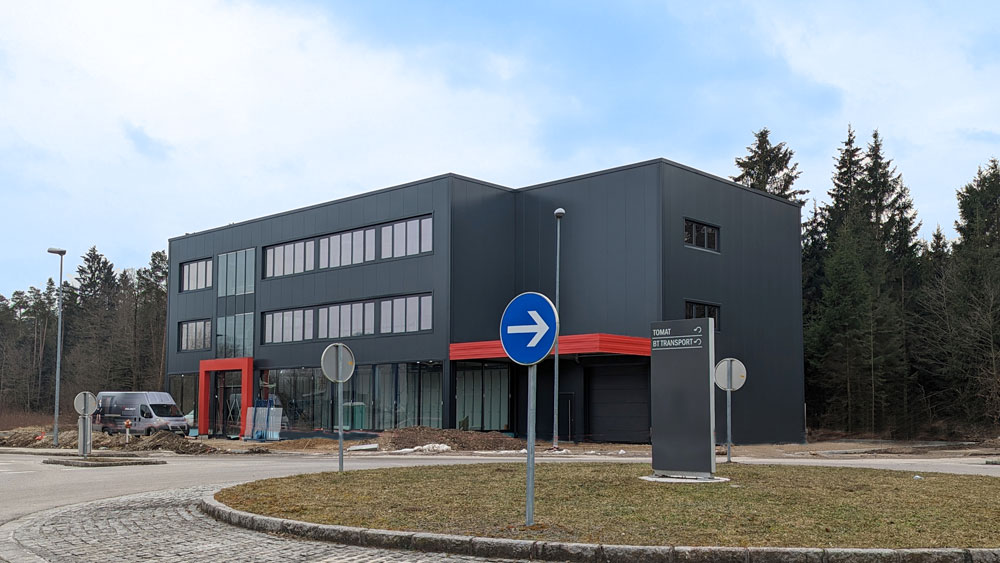 Type: Steel panel building
Purpose: Multipurpose commercial building
Width: 17 m
Length: 34 m
Height: 12 m
Client company Delutech from Ljubljana specializes in the production of exclusive aluminum entrance doors. They acquired a plot of land in the Komenda Commercial Zone with a building permit for a two-storey multi-purpose business building.
Due to the company's rapid growth and the need for more space, they decided to raise the building by one floor already during the planning process. It was necessary to prepare new project documentation and submit it for changing the construction permit. The multi-purpose building will thus serve all the company's needs from production and storage to sales and office space.
The front of the building's ground floor is intended for the sales showroom and the other two floors are for offices. This part is equipped with a glass façade, the rest of the building is completely covered with insulating panels in anthracite color. There is a portal above the entrance to the showroom in the red color of the company's logo, along with a smaller red awning. The investor will also equip the facility with a logo for greater recognition and visibility.
The production and storage part of the building spreads across three floors, therefore a freight elevator was installed in the facility for handling materials and manufactured doors.
Schwarzmann engineers were involved in all project phases. We collaborated with the investor's architectural office in the preparation of the conceptual design and in obtaining a new building permit. We prepared the structural analysis of the building and plans. All the components of the structure were produced by Schwarzmann.
With the new multi-purpose building, the client company Delutech acquired the necessary space for further growth and development of the company. They will be able to showcase their products to their customers in the new showroom and provide employees with quality office space.